Payroll automation refers to the use of computers to produce pay checks and manage benefit payments for a company or community. Often, payroll automation is integrated into the company's enterprise resource planning system that provides an overall view of the company's or community's finances, in addition to payroll, it can manage customer relationships, production, personnel resources, invoicing and accounting.
Payroll management consists of several stages and procedures that require expertise in financial administration, such as employment contract management.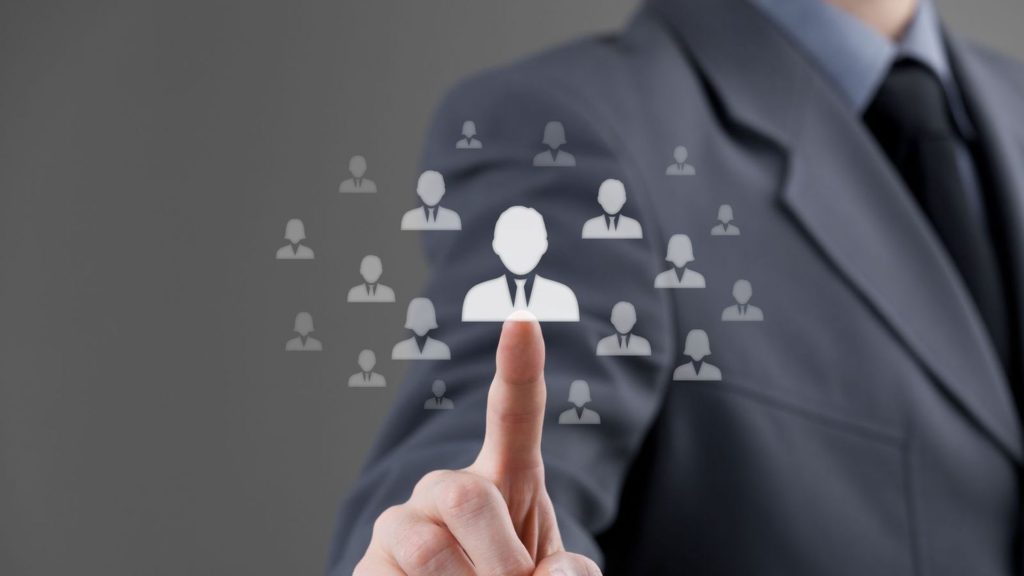 Payroll management performs the following tasks:
Calculating and paying wages, settlement of tax withholdings.
Delivery of wage calculations and certificates to the employees.
Compiling statistics for different authorities, and for the purposes of improving activities.
Drawing up employment contracts.
Providing regulatory reports to the tax agencies and insurance companies.
Calculating annual holidays.
Managing deductions for employee benefits.
Human Resource Management is a powerful system that supports Human Resources departments by minimizing time-consuming tasks through software and automation.
In the digital era, a HRM has become an essential component of any modern HR department. The amount of work that goes into recruiting, hiring and cultivating employees is simply too extensive to be handled manually by most businesses.
Going further, we'll define the basics of a HRM, how to determine your company's HRM needs, and the most important HRM features for your HR department.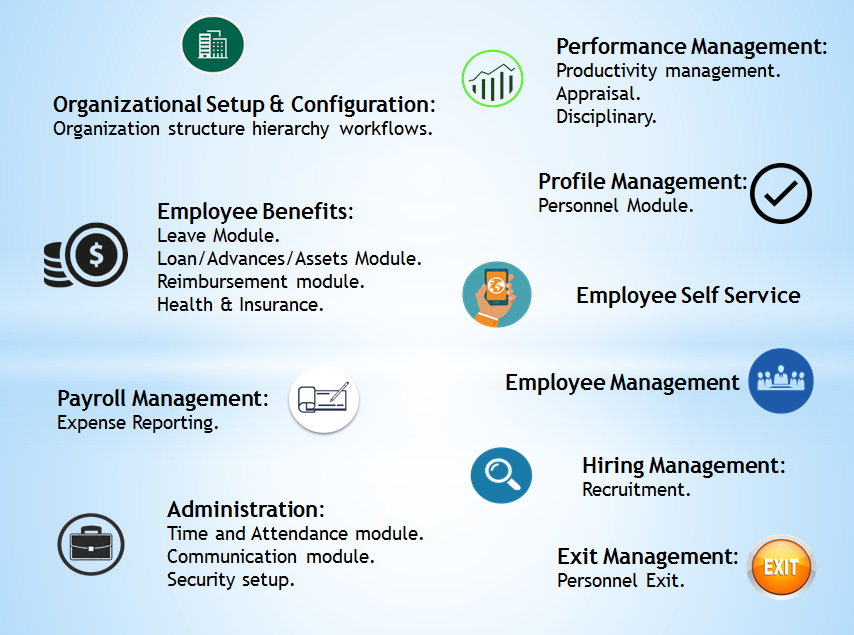 FEATURES:
Profile: The employee profile shows all the information related to the employee like the employment information, personal identity information, payments, bank account information, documents, account information and any additional information available in custom fields.
Checklist and Tasks: Checklist is a simple tool to help you keep track of your task to do list. Task is a piece of work to be done or undertaken to the assigned member.
Resignation Form: A letter of resignation is written to announce the author's intent to leave a position currently held, such as an office, employment or commission.
Interview Process: Applied candidate list with details listed with respect to the category in which the candidate is been placed with approved, rejected, pending, offered or joined. We can fetch complete interview process of the respective candidate.
Candidate Final Approval: Based on the selection process, the candidate will be selected on his/her knowledge, skills, experience, rating given by the interviewer and feedback represented in the process.
Man Power Planning: Man power planning is add a company plan to the floors on which certain department holds the floor to assigned sections and has to be report to the given authorities.
Job Vacancy: Publishing the content of Job vacancy of which is required where the referral of an employee or an employee can apply for the job role which is specified and can attend the interview whenever scheduled.
Expense Approval: When an expense need to done for certain process to the company needs it has to be approved by the respective approval head. Those expense reports will be passed in this template with respect to the details.
Purchase order and Sales order: Purchase order is a list of orders which the customer has ordered and will be processed for approval in this template and Sales order is list of details of sales done to the customers with invoice report as option.
Employee Registration: Complete details of an employee for registration to the company.
Employee Search: Search an employee details by an employee id or employee name, we can track the complete employee details.
Final settlement: Final settlement are done when an employee is leaving the company and the company has to make a final settlement to the employee. Those finance details are present in this template. Bonus form: If an employee need to apply for bonus then the bonus form need to submitted for approval.
Training program: Each employee undergoes a training period to gain knowledge and skills about the job. Those training program which has to be assigned will be registered here.
Organizational Chart: Each employee has unique id and the details of the employee can be fetched with this template.
Employee Resignation: If an employee has to apply a resignation. This template helps the employee to fill the details required by the company and will be sent for approval.
Salary Advance: An employee to apply a salary advance from the company he/she as to apply from this given template and will be submitted for approval from respected authorities.
Loans: To apply loans an employee can easily apply here and can submit for approval.
View Attendance: Attendance View is a visual tracker template will allow you to track the attendance of each of your employees at a glance.
Attendance Application: To apply attendance of an employee with respect to the date and time of work can be done here.
Leave application: An employee can apply leave by his need of leave type and reason specified with date and can be submitted for managers approval.
Task assignment List: Sprint details of each task duration along with the progress status and details associated with it.
Employee Reports: Employee reports consists of all department employee list with complete structural report of respective employee.
Group Announcements is of any kind of announcement will made will be displayed in this section.
MIS Reports: MIS reports is Management Information System Reports. Get detailed report of each department or floor of a company
Policy & Procedures have different set of policies specified to each section such as Recruitment, Time, Leave, Bonus, Wages, Purchase, Lunch Time, Leave for festivals, Government Holidays, Appraisal, Uniform and Dress code, Training, Loan, Resignation, Settlement policies etc.